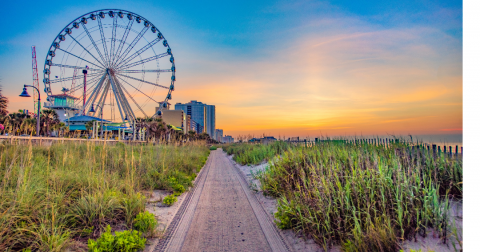 Myrtle Beach has long been a favorite destination for travelers seeking the perfect blend of relaxation and excitement. Whether you're an avid beachgoer, a thrill-seeker, a nature enthusiast, or a foodie, Myrtle Beach offers something for everyone. Here's why you should consider visiting this charming coastal gem.
1. Pristine Beaches and Coastal Beauty
The heart of Myrtle Beach lies in its miles of sandy shores, where the Atlantic Ocean meets soft sands in a picturesque embrace. The beach is perfect for sunbathing, building sandcastles, or taking a leisurely stroll along the water's edge. The stunning sunrise and sunset views over the ocean create moments you'll treasure forever. 
2. Diverse Entertainment and Activities
Myrtle Beach offers a wide range of activities to suit various interests. Thrill-seekers can get their adrenaline pumping at amusement parks like Family Kingdom, which boasts thrilling rides and a classic boardwalk atmosphere. Golf enthusiasts will appreciate the numerous world-class golf courses that dot the area, offering scenic fairways and challenging greens.
3. Vibrant Nightlife and Live Entertainment
As the sun sets, Myrtle Beach comes alive with a vibrant nightlife. The city offers an array of live entertainment options, including theaters, music venues, and comedy clubs. Don't miss the famous Carolina Opry, a renowned music and variety show that's been dazzling audiences for decades.
4. Delicious Culinary Delights
For food lovers, Myrtle Beach is a true haven. Indulge in fresh seafood harvested from local waters, and savor Southern cuisine that's as rich in flavor as it is in history. From beachfront seafood shacks to upscale dining establishments, the culinary scene is diverse and exciting.
5. Natural Beauty and Outdoor Adventures
Beyond the bustling beachfront, Myrtle Beach boasts stunning natural beauty. Explore the Brookgreen Gardens, a breathtaking sculpture garden and wildlife preserve that showcases the region's flora and fauna. If you're feeling adventurous, take a kayak or paddleboard tour through the Intracoastal Waterway, discovering hidden marshes and diverse ecosystems.
6. Family-Friendly Atmosphere
Myrtle Beach is an ideal family destination. The myriad of family-friendly activities, including mini-golf courses, water parks, and interactive museums, ensures that every member of the family will have a memorable vacation.
7. Charming Coastal Communities
While Myrtle Beach itself is a hub of activity, the surrounding coastal communities add to the area's allure. Explore the quaint town of Conway, with its historic charm and riverfront setting, or visit the Murrells Inlet MarshWalk, known for its seafood restaurants and breathtaking views.
In conclusion, Myrtle Beach offers an incredible blend of relaxation, entertainment, and natural beauty that makes it a must-visit destination for travelers of all types. Whether you're seeking a romantic getaway, a family vacation, or an adventure-packed trip, Myrtle Beach has it all. So pack your bags, grab your shades, and get ready to create unforgettable memories in this captivating coastal paradise.